13.05.06
CONSTITUTION AND RULES OF THE THEOSOPHICAL SOCIETY

"1. The title of this Society, which was formed at New York, United States of America, on the 17th of November 1875, is the "Theosophical Society."
2. The Theosophical Society is an International Body.
3. The objects of the Theosophical Society are: First. - To form the nucleus of a Universal Brotherhood of Humanity, without distinction of race, creed, sex, caste or colour. Second. - To promote the study of Aryan and other Eastern literatures, religions, philosophies and sciences, and to demonstrate their importance to Humanity. Third. - To investigate unexplained laws of Nature and the psychic powers latent in man."

24.11.04
The book "Wayfarers: The Spiritual Journeys of Nicholas & Helena Roerich" by Ruth Drayer

"Directed to create a Buddhist country around Siberia, Mongolia and the Gobi from 1924-28, the couple courageously crossed the remote and dangerous regions of India and Asia. They searched for signs of the sacred Buddhist site, Shambhala, for Maitreya (the Coming Buddha), whose presence would signal the New Era of peace and for ancient relics and books hidden in crypt libraries and caves in the Gobi. Six years after this effort failed, President F. D. Roosevelt and the Department of Agriculture funded a second expedition so they could continue their search."

24.11.04
Summary of Vladimir Rosov's books "Nicholas Roerich. The Messenger of Zvenigorod"

"This book is devoted to the Central-Asiatic expeditions of the well-known Russian artist and thinker Nicholas Roerich (1874-1947), and his search for a promised land in the vast expanses of the Gobi Desert. It sheds light on the Great Plan, as conceived by the Roerich family in order to create a new independent Russian polity in the heart of Siberia, the New Country..."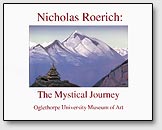 07.11.04
Oglethorpe University Museum of Art Displays Works of Prodigious Russian Painter

"Thirty-five of Roerich's paintings from private American collections will be on display for the first time in America at the Oglethorpe University Museum of Art from Sept. 19 through Dec. 19. This unique presentation includes some of the first Western paintings of Tibet and Central Asia, a painting from the opera "Sadko" and a haunting Russian Orthodox iconic version of the "Queen of Heaven."
12.10.03
Letter from Svetoslav Roerich to Sina Fosdick

"Dear Friends,
We are preparing for the centenary year of Svetoslav Roerich by examining our archive of materials connected with him, and would like to share with readers here this letter, which deals with a matter of extreme importance in the Roerich movement in Russia today. In it, Svetoslav Roerich advises Sina Fosdick about the best way to deal with a German group that had begun translating and publishing books of the Teaching without permission. Sina had already written to a member of the group to protest, and wanted to take legal action against them..."
---
© Public Domain