21.06.2014
Dr. Alena Adamkova
2002-2012 IRMT Executive Director/Curator
DEVELOPMENT REPORT
OF INTERNATIONAL ROERICH MEMORIAL TRUST
FROM 01.01.2002 TILL 08.09.2012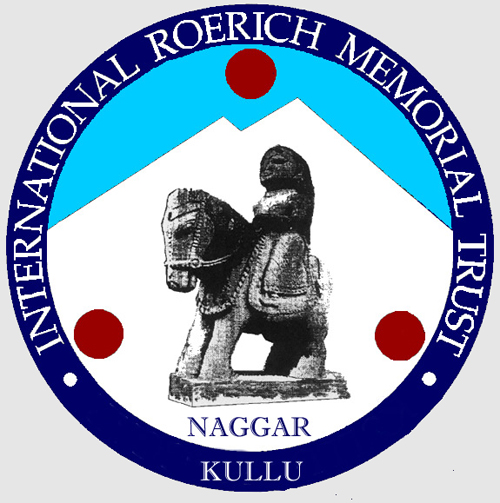 INTERNATIONAL ROERICH MEMORIAL TRUST
Hall Estate
Naggar, 175 130 Kullu distt.,
Himachal Pradesh
INDIA
CONTENTS
* * *
PUBLISHING ACTIVITIES
The IRMT prints reproductions of the original paintings of Nicholas and Svetoslav Roerich from its Art Gallery collection, publishes reprints of the original books and journals written by the Roerichs, and books about the Roerichs.
Grant in aid (Rs 4 lakhs) under the scheme of "Promotion and strengthening of Regional and Local Museums" have been released by the Ministry of Culture, Government of India, for publication works in 2003.
IRMT actively pursues publication activities as one of its main tasks. Many books have been printed through generous sponsorship of the foreign friends of the Trust.
Following books, reproductions and souvenirs were printed during the years 2002-2011:
Nicholas Roerich in Indian Journals.
Hard cover, 1000 copies, 2nd reprint, 2002
B.Conlan. Nicholas Roerich A Master of the Mountains.
Hard cover, 1000 copies (March 03)
Brochure of the IRMT.
5000 copies (August'03; 2009)
Posters - reproductions of N.Roerich's paintings.
4000 copies (September'03)
Loose postcards - reproductions of Nicholas Roerich's paintings.
12000 copies (September'03, several reprints)
N.Roerich. Set of Reproductions from IRMT Gallery.
1000 copies (September'03) ;
+ 2nd reprint, (March'04) ;
+3 rd reprint ( November '06)
+4 th reprint ( December '07)
Nicholas Roerich. Shambhala.
Hard cover,1000 copies (October'03)
Nicholas Roerich. Kuluta.
Hard cover,1000 copies (September'03)
+ 2nd reprint, 1000 cs (June'04)
+ 3rd reprint, 1000 cs (April'06)
+ 4th reprint, 1000 cs (December'08)
Nicholas Roerich. Ki Kavitai. (In Hindi) Paper back, 1000 copies (October'03)
Wall Calendar 2004 with reproductions of N.Roerich's paintings, and N.Roerich's poetry.
(English, Hindi.) 2000 copies (October'03)
Journal of the Urusvati Himalayan Institute.
200 copies (November'03)
Ceramic Mugs with N.Roerich's paintings. (March'04)
Ceramic Mugs with S.Roerich's painting. 1000 pc (April'05)
Puzzles for children with N.Roerich's paintings. (May'04, reprint'07)
S.Roerich. Set of 12 reproductions from the IRMT Gallery.
1000 copies (May'04);
+ 2nd reprint (July'06)
S.Roerich. Postcard size 4 reproductions from the IRMT
Gallery. 2000 copies (May 04)
S.Roerich. Big size poster 'Gaddi Girl'.
1000 copies (May'04);
(repr.'05, 06, 07)
S.Roerich. ART IN THE KULU VALLEY
Facsimile reprint of the book.
Hard cover, 2000 copies (June 04)
N.Roerich. 3 posters, reproductions from the IRMT Gallery.
1500 copies (September 04)
Acrylic paper weights with Nicholas Roerich's and Svetoslav Roerich's reproductions 10 different designs, 5116 pieces
(October 04)
(repr.'06, 07)
Coasters with beach wood frames.
Set of 6 pieces in a box. 500 sets (October 04)
+ 2nd reprint (May 2006); + 3rd reprint (July 2009)
Coasters in beach wood box.
Set of 6 pieces in a box.
503 sets (October 04)
+ 2nd reprint (May 2006)
+ 3rd reprint (July 2009)
Nicholas Roerich. Altai Himalaya.
Hard cover, 1000 copies (October 04)
N.Roerich. 1 poster, reproduction from the IRMT Gallery.
1 x 500 copies (October 04)


S.Roerich. 3 posters, reproductions from the IRMT Gallery.
3 x 500 copies (October'04)
Desk Calendar 2005
500 copies (October 04)
Svetoslav Roerich. 1974
Reprint of the book.
Hard cover, 1000 copies (October 04)
Pocket calendars 2005, 2006
32 paintings, 16000 copies
(October 04, 05)
Pocket calendars 2010, 2011
The Roerich Pact and Banner of Peace.
Hard cover, 1000 copies (April'05)
N.Roerich. Flowers from Morya's Garden.
Trilingual Poetry book (Russian, Hindi, English languages).
Hard cover, Illustrations by David Ursiny, Slovakia
1000 copies. (August 2005)
N.Roerich. Maitreya. Paper back, 1000 copies (February 2006)
N.Roerich. The Heart of Asia.
Hard cover, 1000 copies (October 2006)
(Second edition: February 2010)
S.Roerich. Diary notes on Life and Art
Hard cover, 1000 copies (October 2006)
Helena Roerich. On Eastern Crossroads
Legends and Prophecies of Asia
Hard cover, 1000 copies (April 2007)
George Roerich. Selected Works Hard cover, 1000 copies (August 2007)
Key holders 3 designs (October 2007)
Devika Rani Roerich. Queen of the Silver Screen
Hard cover, 500 copies (March 2008)


S.Roerich. 2 posters
2 x 250 copies (March 2008)
Souvenir key chains
5 designs
(April 2008)
(July 2009)
Post cards for tourists
4 items, 1000 copies each (August 2008)



Leaves of Morya's Garden I.
Leaves of Morya's Garden II.
New Era Community
Paper back, 250 books each (July 2008)
Nicholas Roerich. Realm of Light
Hard cover, 1000 copies (October 2009)
Agni Yoga
Paper back, 250 books (February 2010)
Portfolio - 10 reproductions of N.Roerich.
500 copies (October 2010)
Nicholas Roerich. Invincible
Hard cover, 1000 copies (May 2011)
Agni Yoga: INFINITY I
Paper back, 250 copies (May 2011)
Nicholas Roerich. Mercy
Hard cover, 1000 copies (October 2011)
Penelope Chetwode. Kulu
(Reprint) Paper back, 1000 copies (October 2011)
Post cards set of 24 cards
Roerich House
1000 copies (October 2011)