21.06.2014
Dr. Alena Adamkova
2002-2012 IRMT Executive Director/Curator
DEVELOPMENT REPORT
OF INTERNATIONAL ROERICH MEMORIAL TRUST
FROM 01.01.2002 TILL 08.09.2012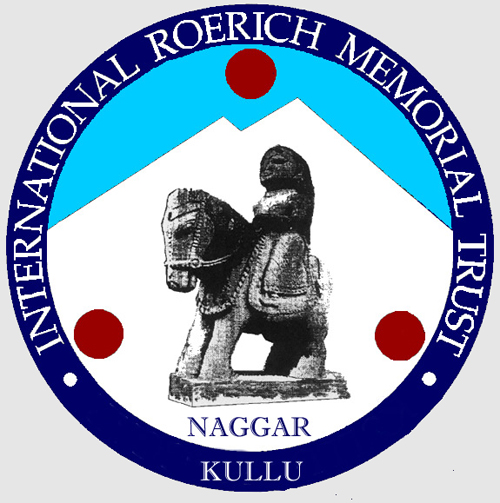 INTERNATIONAL ROERICH MEMORIAL TRUST
Hall Estate
Naggar, 175 130 Kullu distt.,
Himachal Pradesh
INDIA

CONTENTS
* * *
CONSTRUCTION WORKS (2003-2004)
Reconstruction of the gardeners' quarter (built in Roerichs' times)
The building constructed during the Roerichs times as the gardeners' quarter, was in a dilapidated shape, used only as a store room for old junk. It was fully restored, and 4 spacious rooms were given as living quarters to the IRMT gardeners and night guards.
Construction of new steps leading towards Urusvati
| | |
| --- | --- |
| | |
| Old steps that had improper angle, and were cut off during the enlargement of the road by PWD | New steps easily to ascend by anybody |
| | |
| --- | --- |
| | |
| Constructing an addition to the old 'fruit house' and turning it into the Guest House | Reconstruction of an old Svetoslav Roerich Summer Studio, turning it into Art Memorial |
Construction of the Open Air Theatre
Open air Theatre construction (designed by Manali Architect Sh.Duni Chand) has been initiated on 17.8.2004 at the premises of the IRMT, and on the 30th October 2004, Svetoslav Roerich Centenary Celebration cultural program was held on its newly built stage. Later the Theatre was completed. 18 carved wooden pillars with ancient symbols, and image of Goddess Saraswati in the centre of the top triangle adorn the theatre. The work was executed by local artisans. All functions and celebrations of the Trust are being organized at the Theatre ground. There is capacity to accommodate at least 500 people.
IRMT ORCHARD
(Report on 01.01.2006)
Worm composting system
South African Worms composting system has been introduced in the Trust in April 2005, in order to produce high quality natural compost for the orchard.
Worm composting system
In the orchard, there are approximately 640 old trees, which are still giving apples, plums etc. Approximately 525 trees are small (from the previous stock).
Plantation proposal - to be planted in spring:
1) Apple trees - 1,130 (Qty) - different varieties
2) Pears - 10
3) Anar (Pomegranates) - 10
4) Apricots - 10
5) Peach - 10
6) Kiwi - 4
These trees have been purchased in December 2005
Other works to be done:
In February - more than 2,000 Pear cuttings grafting on wild trees (shegar)
Removal of wild bushes at the whole orchard territory, and preparation of the land for its further cultivation.
Spraying of the trees, and application of natural vermi compost.
Later in spring or summer:
Continuation of natural compost farming, and construction of a new 4-chambered worm plant.
(one, which is functioning is not giving sufficient amount of vermi compost)
(Report on 01.07.2006)
In winter 2005-06, for 3 continuous months 5-6 people were working around the orchard chopping fruit trees, removing old bushes, cleaning the territory, digging pits around the trees (approximately 11000 pits), and digging 12000 holes for new plantations. In February-March approximately 11000 apple trees, 100 plums, peaches, apricots, pomegranates, etc. were planted in the orchard.
In March all orchard trees were sprayed by SO oil, and natural compost was applied to all pits. The work on worm compost is continuing, we collected approximately 200 kg of high quality compost and it was applied on flowers and few trees, and results are very good.
Further plans: within 8-10 years there will be approximately 3000 fruit bearing apple trees, 3-4000 pear trees, and other varieties - all this will bring lakhs of rupees to the Trust.
IRMT Orchard, facing the valley. Apple trees, plum trees and 'Japanese' fruit trees. However, Trust experiences water scarcity problems, which may be solved after the big water storage tank becomes functional.
Flower garden
Beautiful flower garden in front of the Roerich House and the main Art Gallery is the first sight for the tourists entering the Trust. Another flower garden is at the Samadhi place of Nicholas Roerich and also at the Urusvati Complex.
Reconstruction of the 'Blue House' (as on 01.07.2006)
Main construction works are finished, electricity connection provided.
Remaining works: Upper floor:
Final wooden works are being executed currently (rubbing old wooden walls, new paint, varnish etc, fixing new lights, furnishing.
Balcony - fixing iron grills along the balcony.
Lower floor: Final painting of the walls, varnishing of the wooden parts, placing lamps, and overall furnishing.
Overall landscaping of the adjacent territory after all works are over
| | |
| --- | --- |
| | |
| Overall view of the 'Blue House' | Previous view of the house |
One full unit was added on the lower floor
New spacious room/hall with great view over the valley
Upper floor - the whole flooring had to be replaced
| | |
| --- | --- |
| | |
| Balcony on the upper floor | Final works are going on (June 2006) |
In January 2007 the renovation of the house (both external and internal) was completed except of minor internal details.
Herbal Garden
"On these mountains the rarest medicinal plants and grasses are centered, and the variety of botanic species is unexcelled." (Helena Roerich)
"Extensive biological and botanical explorations of the Himalayan region are in progress, and it is hoped to extend these explorations to the various regions of the Middle East and India. A Botanical Research Laboratory, extensive plantations and experimental botanical gardens are in the process of being organized. …The Institute staff cooperates in this research with native practitioners and collectors. A Herbarium of medicinal plants is constantly being enriched. One of the first projects to be inaugurated will be a plantation of medicinal plants, for which purpose the Kullu Valley affords special possibilities. A Cancer Research Laboratory is nearing completion, in which new and local cures will be experimented." …. Thus wrote George Roerich in 1930, at the beginning of the Institute Urusvati's work.
Approximately in 1931-32, during their work at Naggar, Roerichs have taken a big piece of land at Chandarkani pass for 99 years lease. Verily, it was their spiritual foresight to choose Chandarkani pass land over any other place in the Himalayas to carry out medicinal plant research. The relevance of Roerich's decision can be fully appreciated only today, when there is hardly remaining any ecologically pure land in lower altitudes.
The IRMT decided to continue the work started by Roerichs, and as the first step Herbal Garden was set up. It was also meant to be a display of indigenous medicinal plants for visitors to learn about as they walk between the lower museum and the Urusvati building. It is also used as a research garden for experimenting with different propagation and growing techniques for medicinal plant species that are not grown in the nursery. During the first year, we aimed to grow approximately 13 different species, concentrating on those that are most rare and valuable. Each species were planted in a single bed and have a corresponding display board giving information on its different names - local, hindi, english and botanical; its natural habitat, its medicinal uses and other relevant information will be added in the future.
First year (2005), 13 species of medicinal herbs were planted in the garden. This year their number is 24 - new varieties were added in May-June, and there are approximately 10 000 plants in the garden at this time.
Seeds were collected from the last year's plants, and natural, high quality dhoop prepared for the Trust's Pujas performed during main functions. Last winter, nurseries were made and some of the herbs were planted there on an experimental basis. Some of them did well, some not because of the overall scarcity of the water at this area.
List of the plants cultivated at the Herbal Garden, IRMT (2005-06): Kaman Bhed, Kunth, Ban Kakari, Top Nihani, Sath Jalari, Chora, Nichli Nihani, Matoshar, Dhoop, Koru, Hath Panja, Patish, Chuchi, Forn, Chura, Pudinah, Tulsi etc.
| | |
| --- | --- |
| | |
| Herbal garden situated at the Urusvati area (2005) | New plantation done in spring 2006 |
| | |
| --- | --- |
| | |
| Medicinal plants at the IRMT herbal garden (Kaman ved plant) | Nihani plant |
Botanical archive
Urusvati Himalayan Research Institute conducted several expeditions to Kullu, Chamba, Kangra valley, Lahul, Spiti and Ladakh regions, where existing botanical species were collected and properly documented. A huge trunk containing this Herbarium is lying at the Urusvati Institute, waiting for experts to sort it out. Importance of this Herbarium is enormous, as it may contain long ago extinct species.
Documentation cards from the Roerichs botanical expedition to China and Manchuria (1934-35) are also being the part of the IRMT archive, presenting great value for the contemporary botanists.
Urusvati Institute's trunk with Herbarium; Samples of Herbarium,Institute's Cupboard with bottles of medicinal herbs collection in Tibetan, Latin and local language.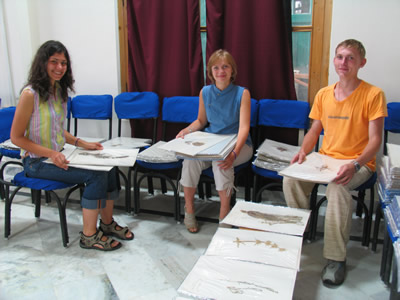 Three students from Russia, Altai State Medical University arrived to the IRMT to help with computer documentation and preservation of old herbarium based on MOU signed with this University. They stayed three weeks here during summer 2005, and did a good work.
2010 - 2011: Professional help in classification of the Roerichs' herbarium came first in 2010. International Centre of the Roerichs, Moscow, Russia, sponsored 2 scientists from Moscow to come and work at the IRMT. Herbarium lists were carefully taken out from the trunk, photographed or scanned, their titles typed, computerized list of entries prepared according to their types.
Dr Svetlana Potapova and Dr Vladimir Shatko during their scientific work on classification of the original Archives of the Roerichs' Herbarium (22.10.2010 - 11.11.2010). Scientists's second coming was in July 2011. Totally, 1752 entries were done by the Russian botanists, which is approximately half of all Herbarium at the IRMT archive.
ZOOLOGY & ORNITHOLOGY
Trust's Archives include original Roerichs' zoological and ornithological collections which were in quite a bad shape. To help in sorting it out, International Centre of the Roerichs, Moscow, Russia, sponsored Moscow zoologist, Dr Andrey Lissovsky to come and work in the archives. Report of Dr. Andrey Lissovsky: Evaluation of Urusvati zoological collection's condition: "Scientific expertise of the collection was carried out in a period from 7th to 30th May 2010. The whole collection of the Urusvati Himalayan Research Institute kept at the Folk Art Museum Archive room was thoroughly examined. Collection consists of 438 specimens of Mammal and Bird skins. Complete list of the collection was written down. This list includes scientific name of the specimen, ID number of the Roerich Museum (from the Roerich time), photos of the specimen and it's label. Unfortunately, the Catalogue of the Roerich Museum to which ID numbers refer, is not available at the IRMT archives. After the examination of the specimens, they were placed back again, with improvement of existing keeping conditions. The action of disinfection with naphthalene was carried out. All specimens were photographed. Current condition of the collection is satisfactory in general. Some skins need to be degreased. The main room in which collection is kept, urgently requires climate control installing. This includes hermetic encapsulation of the room, purchase and installation of air dehumidifier and hygrometer". (Dr. Andrey A. Lissovsky, Zoological Museum of Moscow State University, Moscow, Russia).
Example of the collection
Dr Andrey Lissovsky working at the IRMT
Herbal Garden Worm composting system
rust decided to make another worm composting system in the herbal garden as well, besides continuing with the previous one constructed in the orchard. This system will provide high quality natural compost needed for the herbal garden. The work is almost completed.
The worm composting system was put into use from spring 2007
Water storage tank
IRMT had continuous problems with water supply, having not a single water tank for storage of water. Especially in the tourist season, when approximately 500 to 600 people are visiting the Trust every day, for orchard purpose, flower garden, herbal garden, Restaurant, IRMT guest House etc, the Trust needs extra supply of water.
For this purpose one big water storage tank with capacity to store at least 80 000 litres of water was constructed at the top of the Urusvati area. This storage will fulfil all needs of the Trust not only at this moment, but in the future as well. Construction works are almost over. (The water storage tank is being used from winter 2006)
| | |
| --- | --- |
| | |
| Overall view of the water storage tank | Pipes which will be soon connected to the main IRMT source of water |
Painting works
In spring-summer time 2006, almost all roofs of the buildings at the Trust premises were newly painted (Roerich House, S.Roerich Memorial, Urusvati Complex, 'At Hall Estate' wayside complex, Arcadia Guest House, 'Blue House'). This ensured proper protection of the roofs for the next 3 years. Roofs of the 'Hall Estate' complex were painted again in October 2010.
| | |
| --- | --- |
| | |
| Folk Art Museum and Urusvati Institute | 'At Hall Estate' complex |
Arcadia Guest House restoration
Restoration of the Arcadia guest house has been done, turning the old 'fruit house' built by Svetoslav Roerich in 1960, into two cozy, comfortable flats consisting each of one spacious 4 beds room, dining hall, kitchen and bathroom.
'AT HALL ESTATE' WAYSIDE BUILDING
Was an eyesore for the years, finally has been taken up for reconstruction in 2003. In 2005 main construction works have been completed. On the top floor, two halls are functioning: modern art exhibition hall, and the seminar/cinema hall. Sales counter of the IRMT publications and souvenirs were transferred to this building as well. Tea and Coffee bar has been opened on the top floor in May 2005. IRMT Restaurant has been opened on the middle floor in June. Indian, Russian and Tibetan cuisine is being offered for the tourists. The lower floor houses several Guest house rooms, which became functional in July 2005.
Modern Art Exhibition hall (left wing of the building)
Seminar and Cinema hall (right wing of the building)
Restaurant (one indoor big hall and two open air balconies that offer fantastic view on the valley)
Tea and Coffee Bar is on the top floor in the centre of the building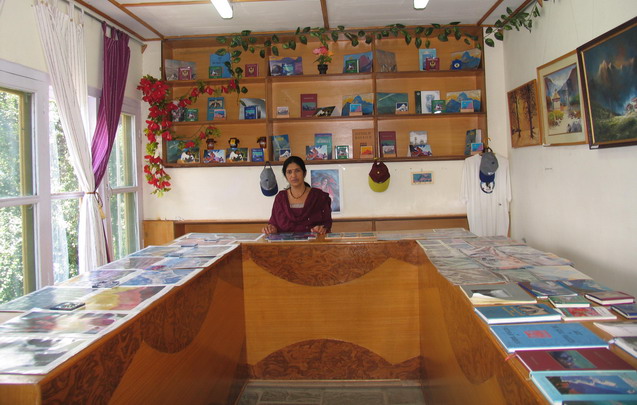 Spacious Souvenir shop is situated on the top floor of the building and offers books, posters, cards, souvenirs etc printed by the Trust.
DIGITAL FRAME (2009)
IRMT houses 37 original paintings of Nicholas Roerich, all of them small size Himalayan etudes, which do not give thorough understanding about the Art of the Master. To provide more information to the visitors, slide show program was prepared by Dr Adamkova for screening at the Art Gallery. More than 800 available reproductions of N.Roerich's paintings were scanned, divided into thematic groups, appropriate music added and such presentation installed by S.Yakovlev into a Digital Frame. It was launched in October 2009.